Chanez Baali Rocks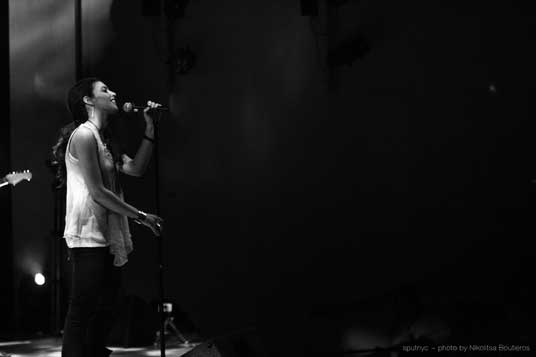 Chanez Baali ('02) with band tramponaline live at the lycee
On Friday April 15th the Lycée Français de New York officially became part of New York City's vibrant music scene. Three Lycée alumni bands that are fixtures of New York's downtown concert circuit performed live in the school auditorium to launch the school's new Alumni Annual Fund, with all proceeds from the concert going to the fund. The bands that performed were Bandamous, Strip Darling and Tramponaline, and they all have strong alumni ties to the Lycée going back as far as 1995 and as recent as 2002.
After taking a brief hiatus away from live performances to record new material, the bands decided that instead of immediately returning to the stages of the Mercury Lounge, the Continental and The Living Room – the NYC boites where they developed a loyal fan base – they wanted to do something different. They wanted to do something close to their heart. They wanted to do something for the Lycée; and once they found out that the show would benefit the alumni program, it was a must to make it extra electric.
Chanez Baali ('02) is lead singer for the band Tramponaline. She was also a panelist on the alumni-focused 75th Anniversary speakers' Series "How the Lycée Influenced My Life", which was held at the Lycée Thursday, April 14th – the night before the benefit concert. Ms. Baali was interviewed via email about the benefit concert, life after the Lycée and how more than 20 alumni got together to create a production company and ended up rocking the Empire State.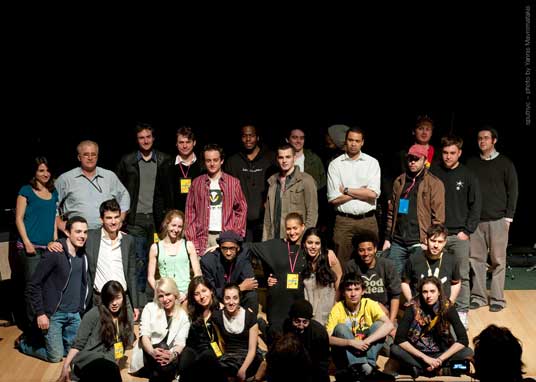 Alumni Prodution Company: Sputnyc
How did your years at the Lycée influence your decision to become a singer? Did you take part in many school plays and musicals?
"I was at the Lycée from Cinquième to Terminale, and with the exception of Seconde, I sang in the chorale every year, and later, in musical theater ("Muses et Musées", and "An Eve with Eve and Yves"). I joined scenyc in 2002, and there was already a strong focus on music, so the rest followed."
Your band, Tramponaline, is part of a consortium of Lycée alumni bands that are all linked through the production company sputnyc, and the record company Manyc Records. What was the genesis of the company, and did the bands come before or after sputnyc? And what is scenyc?
"Music was the first piece of the puzzle, going back to the late 90s with Milt Opus (which, by the way, was the first band to throw a rock concert at the Lycée). Milt Opus was formed while most of the musicians were still at the Lycée."
"Scenyc is an art, information, media and technology company, founded in 2000. Scenyc primarily engages in web design and web software, but also specializes in marketing and management consulting, print and space design, photography, and sound services."
"Since everything started at the Lycée, you can say that the concept for sputnyc began when Milt Opus realized it had to come up with new ways of playing concerts, in order to bypass New York City bar regulations, for the underage crowd to attend."
"In addition, the idea that we have a creative and technical expertise in everything related to the event production process, developed naturally over the years. From a quality of experience standpoint, this is very important."
Whose brainchilds were sputnyc, Manyc Records and scenyc, and linking them to the bands?
"Everybody involved has in one way or another participated in defining how all these activities were going to work together. The original founders were Philip M. Shearer (95), Axel Icard, Rangit Magasweran (00), and Marc Perraud (95), 3 of them LFNY alumni. The builders, Olivier Lauzon (95), Jonathan McIntosh (99) and Stewart Laufer (00), quickly followed, and slowly but surely, more and more people started joining scenyc. Today, scenyc counts over 50 collaborators and artists, 27 of whom are LFNY alumni. Traditionally, it has always been a place where Lycée people congregate."
What prompted sputnyc/Manyc and the three bands to give a benefit concert at the Lycée to kick-off the Annual Alumni Fund?
"10 out of 15 band members are LFNY alumni!"
"The Lycée was really the starting point for everything (that's where most of us met), so after 10+ years of company history, we felt that it was time to start telling our story, and the first opportunity that we saw was to bring our music to the Lycée. 2 of the 3 bands are releasing studio recordings for the first time in early April, to coincide with the 75th Anniversary celebration taking place this school year."
"It was the perfect opportunity at the perfect time. What better way to celebrate this 75th Anniversary than by having an alumni benefit concert by bands and artists that were inspired by their education at the Lycée?"
"It was a high school homecoming of sorts, with a compelling LFNY story in the background. The process has come full circle."
What future projects do you imagine working on with other alumni?
"We would love to work with alumni on any artistic project, since we specialize in so many art-related fields. Alumni who are looking for partners in their business ventures should feel free to get in touch with us. It's always great to work with alumni who are like-minded and share the same principles we do."
"We also look forward to continuing our collaboration with the Lycée in a more creative and substantive way. It'd be great to partner with the Lycée on an educational level. For instance, the Lycée could have a graphic design and web design "module" or workshop starting from Seconde. Students would learn the theoretical basics in class, and put them in practice with a short internship at clinyc and tectonyc, in a bilingual setting, and possibly get school credit for it."
"Sputnyc could also host events involving the student body, thereby bridging the generational gap between old and current Lycée students. There could be an arts-driven sort of festival, with a focus on music, theater and visual arts, with works by students and clinyc artists on display in the Lycée gallery and performances by students and Manyc Records artists in the auditorium."
"We all started playing music because we were friends and we shared a passion. This is still the case today. We're just making the circle bigger with a Lycée alum group spanning several decades."
> Back